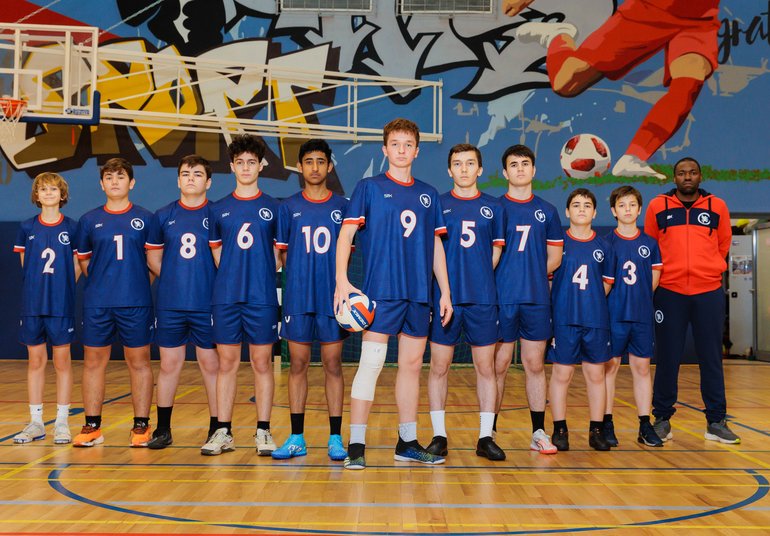 During the Mid Term Break Gryphon Football Squad traveled to Baku to participate in the Silk Road Athletics Association Tournament hosted by the International School of Azerbaijan. Seven international schools from Azerbaijan, Georgia and Russia took part in this event.
A few weeks before the tournament, we found out that our football team would have to compete in a volleyball tournament as well. In this challenging situation, our students rose to the occasion and showed remarkable adaptability and determination. They quickly familiarized themselves with the specific rules of volleyball and applied various tactics to excel in the game.
Throughout the tournament our team exhibited exceptional leadership, maturity, and teamwork. As the captain of the team, Nikolay demonstrated outstanding leadership skills, guiding and motivating his teammates to strive for success. Game by game, all students, from year 8 to year 12, our students' enthusiasm for volleyball grew. Their skills have considerably improved: special mentions to the defense of Umar, the service of Migel and the positioning of Philip. We hope the progress made during this tournament will motivate our students to get more involved in volleyball and to develop further skills.
Additionally, Andemirkan displayed remarkable maturity and took responsibility for his actions. He consistently showed a positive attitude, learning from any mistakes and working towards improvement. His dedication and accountability served as an exemplary model for his teammates.
We would also like to acknowledge Sar Ali and Sammy for their role as valuable team members. Their commitment to the team and their exemplary sportsmanship contributed significantly to our success. They consistently supported their teammates, encouraged positive team dynamics, and played a crucial role in
adapting our tactics to counter opponents.
Despite playing against football players often much older than them, our team displayed remarkable risk-taking skills, confidence, and adaptability in the face of experienced opponents. Their ability to adjust their tactics according to the strengths and weaknesses of the opposing teams showcased their strategic thinking and
determination.
Finishing in fourth place out of seven schools is truly commendable and reflective of the tremendous growth our football team has gone through. We must highlight the outstanding defense led by Milad, Abubakar, and Lom-Ali, who formed an almost impassable wall throughout the entire tournament. Their unwavering dedication and solid defense contributed significantly to our team's success.
Brookes athletes demonstrated great sportsmanship and team spirit. They were strong ambassadors of the school and its community and made such a positive impression that Gryphons were invited to participate in the future SRAA tournaments. The progress and achievements made during this tournament serve as a motivation for all of our students to further explore their potential in sports and continue developing their skills. We are immensely proud of our team.