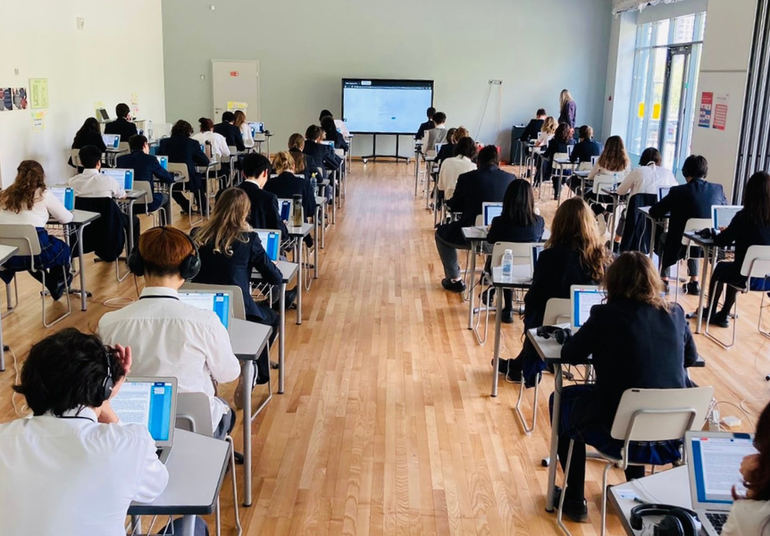 Exciting News from Brookes Moscow! Our MYP eAssessments are underway, and our students are rising to the challenge! 
IB MYP eAssessments commenced on May 9th worldwide, they will conclude on the 19th with an exciting Interdisciplinary assessment between Science and Mathematics. 
MYP eAssessments hold a significant advantage over traditional board examinations, embracing innovation and real-world connections. Through captivating multimedia texts, our students engage with authentic scenarios that mirror the complexities of the modern world. These assessments measure their knowledge and skills gained throughout their MYP journey, going beyond memorization to foster critical thinking and practical application.
In the May 2023 session, IB MYP eAssessments are centered around the global context of Globalization and Sustainability. This theme enables our students to explore the interconnectedness of our world and the importance of sustainable practices. These onscreen examinations lasting from 1 hour 45 minutes to 2 hours, comprehensively evaluate the students' understanding and application of concepts. 
To obtain the IB MYP Certificate, students must fulfill the IB requirements, including completing Personal Project, Eportfolios from Arts, PHE or Design, and onscreen examinations from Language and Literature, Language Acquisition, Mathematics, Integrated Humanities, Sciences, and Interdisciplinary assessment. 
We extend our heartfelt wishes to all our students, urging them to showcase their growth, determination, and shine bright in these assessments. Good luck! #MYPeAssessments #BrookesMoscow #GoodLuck