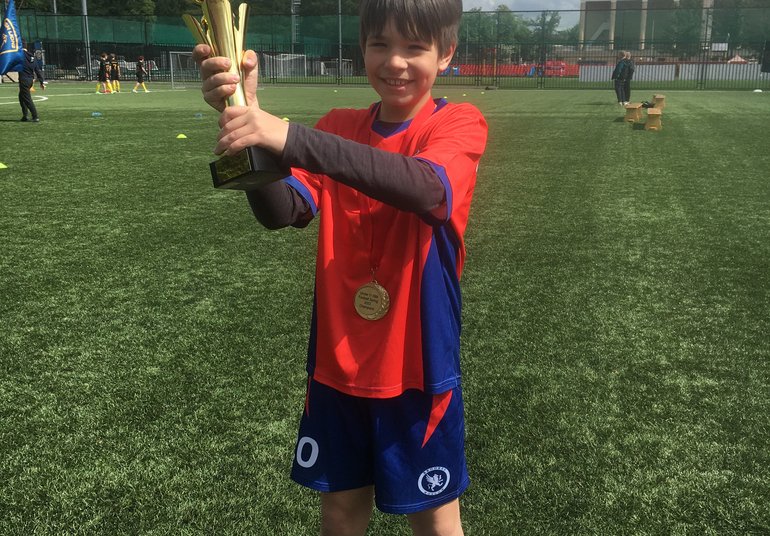 Last Saturday, four of our Gryphons football squads made their way to the iconic Luzhniki complex for a day of action-packed, fast-paced drama for another MAC football tournament.
The day started with the Under 11 squad who faced ISM, CIS and BIS St. Petersburg. Aided by some new signings in the recent transfer window, the squad was comprised of grit, determination, panache and flair. It was clear from the outset we were on to something special and it turned out that way, with the U11 Gryphons running out 3-0 winners in the final thanks to goals from Vladimir Komutkov, Ellis Drake and Siyovush Mansurov.
On to the afternoon and it was the turn of the Under 13 and 15 boys as well as the Under 15 girls team. The girls team kicked us off with a pulsating 30 minutes of drama, unfortunately ending in defeat.
The boys teams, buoyed on by the disappointment of the previous tournament in October, came out of the blocks flying. Early victories saw both teams match their younger teammates in reaching the final. Both however were narrowly edged out, with the U13s losing 3-1 and the U15s on penalties.
For four Gryphons football squads to make it to their respective final on the same day is quite an achievement. It is a testament to their hard work, dedication and hunger to progress so much in skill level, understanding of the game and mindset. We raise a hand to all our footballers for delivering such a fantastic day!